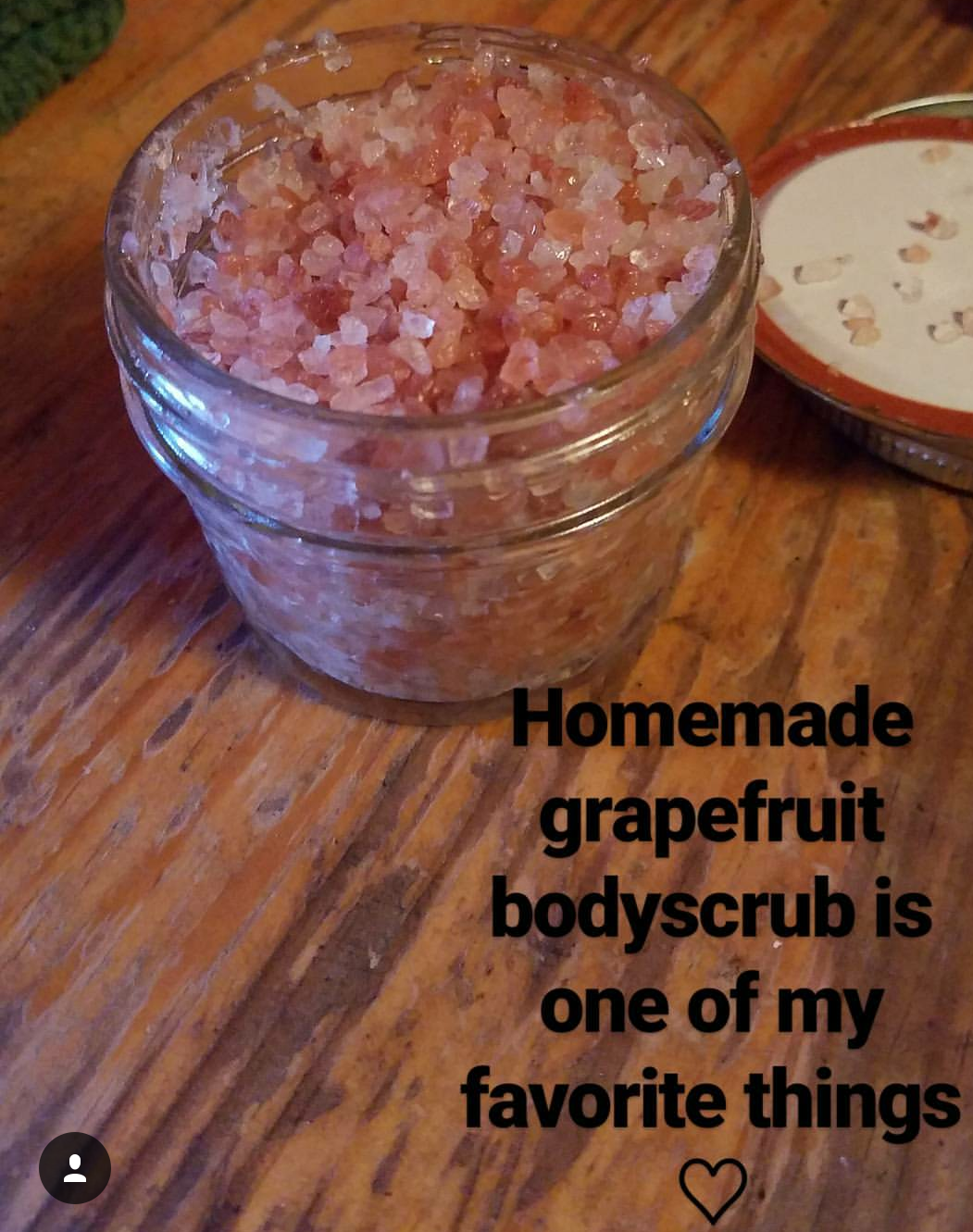 Homemade Grapefruit Bodyscrub is one of my favorite things. My recipe is loosely based on Lush Ocean Salt Scrub. My version is all natural, vegan friendly and safe to eat. (Although it tastes pretty bad lol) It smells amazing and works great on sensitive skin.
I like to use a mix of fine and coarse ground sea salt in my body scrubs. Finer salt is more gentle for people with sensitive skin. Coarser salt is able to exfoliate more and help your skin get clean. Most grocery stores carry both. If you want to be fancy you can get himalayan pink salt or celtic sea salt which have minerals that may or may not provide added health benefits.
Next I add oil. Different oils have different benefits and treat different skin issues. For example, grape seed oil strengthens and tightens skin while moisturizing to fight aging. Grape seed oil has anti-inflammatory properties that make it good for people with sensitive skin. Coconut oil has a nice smell and contains vitamin E to help repair damaged skin.
The essential oils and extracts are mainly used for scent. Fresh fruit juices or shavings of peel can also be used. Citrus fruits are great because the smell really comes through, especially if it's fresh. Tea tree oil is something I frequently use to prevent acne and further soften skin.
 The ratio and ingredients are up to you depending how you want the finished product to be. I like mine the constancy of wet send. I usually start out by filling a container halfway with salt. I add oils until it is saturated, mix it and then add more salt and fragrances. It's so easy and inexpensive compared to similar products on the market now. One 200 mL jar sized batch usually lasts me 2-3 weeks. My skin feels great and I feel good about what I'm using to clean my body. Many commercial body care products contain a long ingredient list of chemicals. I prefer something with a few simple ingredients that I know and understand. My body scrub is best when used within 2-3 months of being made.